Since I still have yet to see several of the major contenders for this year's Oscars, I thought it would be fun to get a hold of each of the nominated scripts to read before the ceremony – and to make my predictions based solely on the screenplays alone.
Here are my thoughts all ten nominated screenplays, along with a sample from each – and my predictions of what should/will win…
Adapted Screenplay Nominees
American Sniper
Written by Jason Hall
An unfortunately dull read. Old school, textbook style of screenwriting, but it is unwieldily and in bad need of editing to establish a better sense of structure and pacing throughout. I found it a real chore to read, and didn't find it engrossing or enjoyable at all. It is super long. The constant technical cues (specific SFX, score instruments, etc.) also distract and bog things down. Despite Chris not being a particularly likeable character, it is clear the screenwriter worships him as a hero despite all his failings (he reads as overconfident bully.) Other characters are fairly one-dimensional stock characters; his army buddies consist of a lovable fat boy, a country hick, and a stoic black man. The best bits of the script were shooting of Biggles and assassination of trash bag sniper; which were genuinely touching and tense respectively.
 Buy American Sniper on Amazon or iTunes
Download the screenplay through Simply Scripts. 
The Imitation Game
Written by Graham Moore
I was not expecting to enjoy this script as much as I did. I was expecting a fairly dry, worthy, Oscar-bait type script, but instead I got a fun treat. I love that the screenplay jumps around in three different time periods – the subject dictates the form, meaning the resulting screenplay is something of a puzzle for the audience to enjoy putting together. There is a great sense of each of the characters' personalities and their evolving relationships with each other. Though there is more than a touch of Cumberbatch's Sherlock in Turing on the page. The dialogue is not just funny but wacky on a regular basis; making this script a real delight to read. I also love the elegance of how non-verbal communication is communicated on the page.
Buy The Imitation Game on Amazon or iTunes
Download the screenplay through Indiewire.
Inherent Vice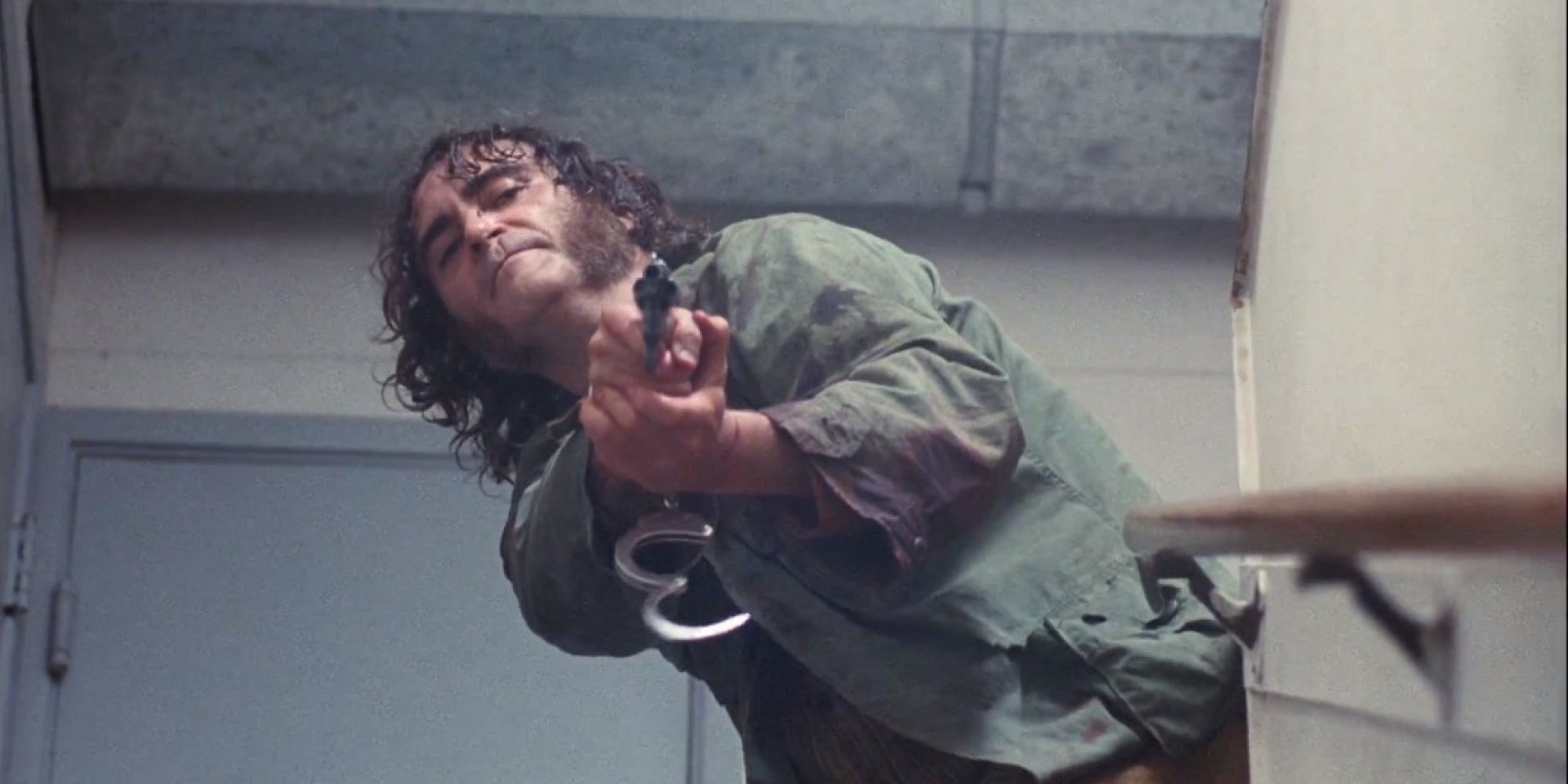 Written for the screen by Paul Thomas Anderson
As much as I love PTA's films, his screenplays are often fairly bare bones, and often belie the eventual richness once he is done also directing it. Inherent Vice is no different. It is full of long conversations, often with zero action or other descriptions. It is striking just how little visual information there is at times, which can make it difficult to follow the plot. This is all about the dialogue – and the dialogue it is great. Each character has their own distinct voice and speech pattern, all of which add up to a cacophony which evokes a dreamlike memory of the 70s. Liberal use of possible additional dialogue in parenthesis serves to further establish each character and where they're coming from, even if the dialogue wasn't actually delivered in the final film. Similarly, there are several possible versions of at least one key scene in the script. All of this illuminates PTA's approach to filmmaking: the script is just the starting point.
Buy Inherent Vice on Amazon or iTunes
Read the screenplay via the Weekend Read iPhone App
The Theory of Everything
Screenplay by Anthony McCarten
Overall, a very traditional screenplay – albeit with lots of invisible/internal information which would not translate to the screen. There are lots of nicely crafted moments throughout which really do well evoking the intended emotion with considerable impact. One criticism is that it is sometimes a little difficult to keep track of who is who. Also, the science story (which dominates the first half of the script) ultimately takes a backseat to the less interesting disability/romance story line.
Buy The Theory of Everything on Amazon or iTunes
Download the screenplay through Indiewire.
Whiplash
Written by Damien Chazelle
This is an energetic, frantic script that I absolutely ripped through. The climactic pages in particular pack a load of text on the page. There is some great dialogue in here – it is a real actor's piece. It does a lot of things that writers are told not to do (such as how the characters are feeling; the general rule is show don't tell) but it works. Minor criticisms include the character of Andrew seems a tad under-defined and two-dimensional, but this could just in contrast to the phenomenal job done with Fletcher. Also, when the script breaks away from just the two central characters and bring in some of the wider world, things tend to get a little muddled. Overall, though, awesome.
Buy Whiplash on Amazon or iTunes
Download the screenplay through Indiewire.
Who Will Win?
Controversy over Whiplash's inclusion here rather than in the original category aside,  it is probably still the front runner in what is – if we're being honest – a none-too-exciting category. My personal favorite, though, is The Imitation Game – a script that was a pure pleasure to read from start to finish.
Original Screenplay Nominees
Birdman or (The Unexpected Virtue of Ignorance)
Written by Alejandro G. Iñárritu, Nicolás Giacobone, Alexander Dinelaris, Jr. & Armando Bo
The concept to shoot this film so it appears to unfold in a single long shot dictates the form of the script here, so by necessity there is a lot of transitional action ("we follow him into…," etc.) which became really tedious by the hundredth time I read that particular direction. Despite knowing what actors that brought the roles to life, I did feel that not all the characters "popped" on the page as much as I'd like. Though Sam is nicely defined and is a neat tweak on what could have just been a generic stock stereotype, I felt Mike in particular needed something more than just one "mode" or "setting." Overall, the script would benefit from some editing; as it is, it is sprawling though very visual, funny, and engaging.
Buy Birdman on Amazon or iTunes
Download the screenplay through Indiewire.
Boyhood
Written by Richard Linklater
Reading the script after seeing the movie, I was taken aback just how talkie it was. There is a lot of dialogue, and very little else. The minimal action lines are very basic. Although essentially an epic series of moments spanning childhood and adolescence, there is a very clear progression of story throughout – particularly in the years spanning Mom's marriage to Bill.) As Mason grows older, though, the standout scene are those which are less of the "main story" and more of those one-off moments that you imagine might make quite an impact on a developing mind. Reading the script as opposed to watching the movie, I became more aware of the thread of politics throughout: it is most obvious with Dad's liberal leanings, but it is also present in Mom's marriages (first to academic Bill, then to soldier Jim.) As with the film, the only jarring scene is the one near the end where the family are approached by a restaurant manager who tells Mom she changed his life all those years ago.
Buy Boyhood on Amazon or iTunes
Download the screenplay through Indiewire.
Foxcatcher
Written by E. Max Frye and Dan Futterman
I wasn't looking forward to this, but actually found it to be quite the page turner! The writer comes across as confident, comfortable, and totally in control of his craft. The script is remarkably easy to read and there is lots of white space on each page. From the moment you meet each character you immediately "get" who they are just from their initial lines of dialogue and the rhythm of their voice. This is a very visual script with a nice sense of rhythm and pace. The writer makes good use of repetition as a story device, gradually showing us more and more of something to reinforce and build on our initial suspicions (of DuPont's cocaine addiction, his attraction to Mark.)
Buy Foxcatcher on Amazon or iTunes
Download the screenplay through Indiewire.
The Grand Budapest Hotel
Screenplay by Wes Anderson; Story by Wes Anderson & Hugo Guinness
Wes Anderson's films are known for their distinct visual flair and his characters' particular vernacular, but all the same I was not not expecting quite so literary and flowery a style of screenwriting. The action and description paragraphs are much longer than most screenplays and are dense with prose. The descriptions are very dry and repetitive ("There is… There is… There is…, He is… He is… He is…") but at the same time charming and delightful nonetheless. The opening framework seems much slower and more tedious on the page than it did on screen. The anticipated visual quirks are mostly present in brief inserts and cutaways.
Buy The Grand Budapest Hotel on Amazon or iTunes
Download the screenplay through Indiewire.
Nightcrawler
Written by Dan Gilroy
Much has been made of Nightcrawler's unconventional stream-of-consciousness style. But Dan Gilroy gets away with it. You've got to imagine the production crew getting quite frustrated on a number of instances though. For example, multiple characters share the same designation in the script (rather than a "Cop 1" and "Cop 2" there are multiple cops all referred to simply as "Cop.") It doesn't read like a typical three-act structure, but rather a continual compounding of tension building up and up, and Gilroy himself has said that he didn't want his central character to have an arc. A tough and compelling critique of local new and US TV audiences.
Buy Nightcrawler on Amazon or iTunes
Download the screenplay through Indiewire.
Who Will Win?
Birdman has been winning a lot of major awards, but it faces some serious competition in this category. I don't think it will win here. I really liked Foxcatcher, but I don't think it will win either. Instead, I'm going to predict another of my absolute favorites, The Grand Budapest Hotel, as the winner. I hope it is.